Waage EB2/LCN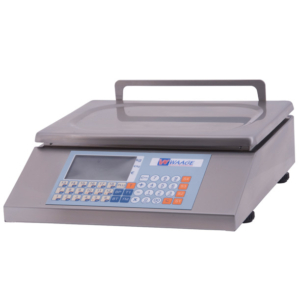 Dual LCD display for displaying weigh-price-amount transactions, without a printer and with long-life batteries. They represent a combination of quality and reliability and respond to the needs of the ambulant.
Features
Base in stainless steel
Membrane keyboard composed of 44 keys
Long lasting batteries
4 serial
PLU 18 direct / 36 indirect
Hardware
DIMENSIONS EB2/LN
LXDXH 370x340x140 h 585
Plate LxD 360×270
Waage PENSILE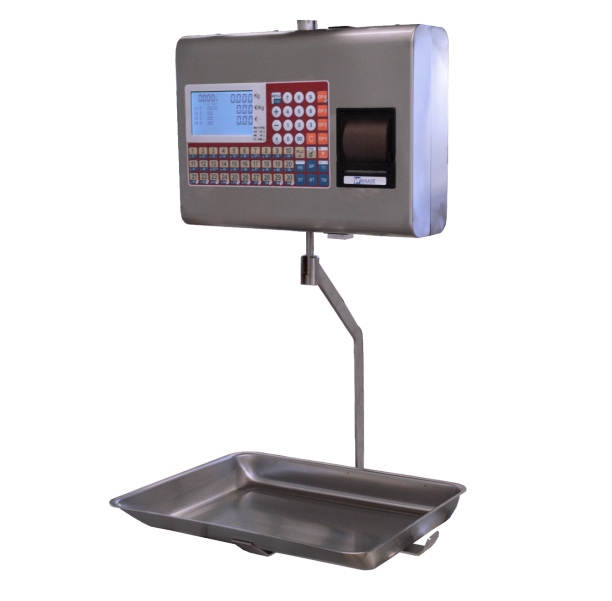 Electronic scale with stainless steel structure and double LCD display for displaying the weight, price and amount transactions. Long life batteries and EASYLOADING printer for fast paper loading are included.Responds to the needs of fishmongers.
Features
Keyboard composed of 59 keys
Clock and calendar automatic rechargeable internal batteries
6 keys for direct recall of functions
4 operators + 4 operators
Name on the single operator
Receipt header consisting of 5 lines for 26 characters
Logo on receipt 10 programmed tares
Semi-automatic, manual tare
Receipt reopening on operator
Copy of the receipt by operator
Price block – tare block
Direct PLU – 30×2 keyboard items
500 articles – PLU that can be recalled from the keyboard
200 traceability programmed and programmable
200 lot codes and 200 recipes – ingredients in 6 lines of 26 characters
Packaging / expiry date and EAN 13 barcode
Print receipt, single item and total article
Hardware
PRINTER
Thermal paper 57×20 mt x 12LINERLESSEASYLOADING
CONNECTION ABILITY
RS 232 interface for connection to Pc and cash register XON-XOFF protocol
ETHERNET interface for connecting scales in local network
DIMENSIONS
LxD 355×380 h140plate 350×245
Waage SUMMA
A mixture of ideas and experience with a modern design and three colors available: black, white and red. Double LCD display for displaying the weight, price and amount transactions. EASYLOADING printer for fast loading of paper and long life batteries. Meets the needs from the little shop to the medium-sized store.
Features
Keyboard composed of 59 keys
Clock and automatic calendar
Rechargeable internal batteries
6 keys for direct recall of functions
4 operators + 4 operators
Name on the single operator
Receipt header consisting of 5 lines for 26 characters
Logo on receipt
10 programmed tares
Semi-automatic, manual tare
Receipt reopening on operator
Copy of the receipt by operator
Price block – tare block
Direct PLU – 30×2 keyboard items
500 articles – PLU that can be recalled from the keyboard
200 traceability programmed and programmable
200 lot codes and 200 recipes – programmable ingredients 6 lines of 26 characters
Printing of packaging date / expiry / EAN barcode 13
Receipt / single item / total article
Label on LINERLESS thermal paper
Hardware
PRINTER
Thermal paper 57×20 mt x 12LINERLESS paperEASYLOADING
CONNECTABILITY
RS 232 interface for PC connection
ETHERNET interface for connecting scales in a local network
RS 232 interface for XON-XOFF protocol cash register connection
DIMENSIONS
LxDxH 370x340x140 h 585Plate 360×270
Request more information